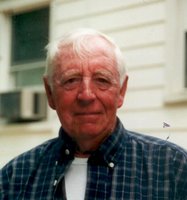 Philip J. Connors Sr.
On June 20, 2017, Philip Joseph Connors Sr. age 94 of Berlin, NJ, formally of Voorhees, NJ passed away.
He was predeceased by his beloved wife of 67 years, Gladys R Connors (nee: Fitzpatrick). Devoted father of James and his wife, Shara, Linda Connors, Sharon Connors, Philip Jr., Patricia Connors Bright, Kathleen Connors DiCerbo and husband John. He is also survived by his fourteen cherished grandchildren and eleven precious great grandchildren.
He was co-owner of Victory Brick & Block Co.in Voorhees with his wife, Gladys for 40 years. Philip served in the US Navy from 1943-1946 during World War II. He ran an ordnance base at the Naval Air Station in Squantum, MA in 1943. He also loaded the guns and ammunition on the planes before he was discharged in 1946. After he was discharged, he worked for a year at Willow Grove Naval Air Station. He then went to work at his father's concrete pot company, Victory Brick & Block Co. Philip was a very hard worker and always provided for his family. He was an amazing father and grandfather. He was a devoted husband and an incredible caregiver to his wife in later years. He was a quiet man, but he shared great wisdom and he had the very best sense of humor. He will be extremely missed by his family and all those who knew him.
Services and inurnment will be held at the convenience of the family.
Philip Joseph Connors, Sr. of Berlin, NJ
June 5, 1923 - June 20,2017